i got a really
bad headache
today...... i forced myself to go to
school
to collect my test papers even though my head is ringing and felt as if my head got squeezed by a
head cracking death chamber
but i still manage not to fall off my knees..
AJA!
but when i got to school i instantly
slept
at my desk... though i cant really fall asleep because of all the noise in the classroom.
(im half awake)

so anw.
my bod temperature in the school was quite normal but when i got home my bod temperature rise.. so my mom give me
medicine
but not panadol, panadol is not advisable for me..
though my i still got fever now i manage to go online..
so anyways.. i got my testpapers and the results aren't that bad and i actually passed Physics YEY!
but not my math paper.. gosh! huhuhu... i hate
math
and math hates me..

let me say my
thanks
before i sign out
i wanna thank
Raichelle
for being there for me.. we were doing this frequency of errors in our filipino time that we have to raise our hands if we got a wrong answer in that particular number

since i cant barely do anything. raichelle did it for me~
and all of my friends..
anw. i appreciate you being
concerened
but yeah. thanks i just dont know what to say...

so here i am.. saying "
THANK YOU
"

well.. im not the type of person to start a conversation with a complete stranger and someone whom i barely know. and i may sound or look like a snobby person but no im not. haha
XIE XIE NE!!!
and
emerald
cause she treat us with food haha

okay will go back to
sleep
now...
---
today was also our
advisory teacher's birthday
, the class prepared a
birthday blash
and gave our teacher a
cake
..
will put the picture here later..
---
WINNERS FOR BEST OF BLOG AWARDS
(october)
first placer: chocoxbaby.blogspot.com
second placer: milkypoop.co.nr
third: summerbabe.princess-love.net
banners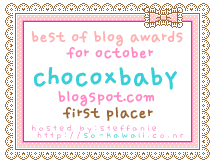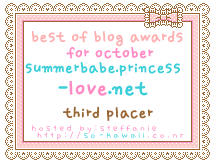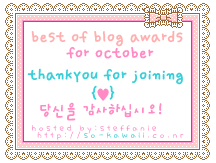 award i got from
eunice
~thank you so much