HAPPY HEARTS DAY TO ALL
!!!! single or not. haha
to all
single people
haha.. just cheer up.. theres nothing to get upset about.. let go and buy ourselves
chocolates
yea.

btw
thanks to all people who greeted me! very
thoughtful of you


from
eunice
: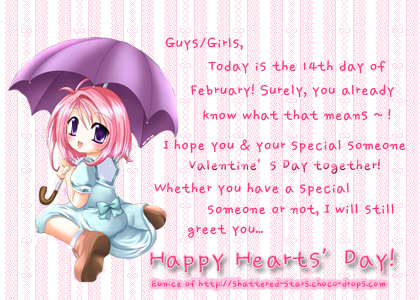 from
lisa
:
i also wanna make a
valentine
banner but sadly i still dont have photoshop! let me find a way to edit something without using it... ive tried using
paint
.. to hell it with it!
I WANT PHOTOSHOP!
anw..
pet society
is in
maintenance
for a very long time already.. im getting very impatient haha!
made this for my senior year!
once again, we call ourselves sped because of some reasons not because we are mentally retarded


Pet Society
how to get more coins
- my way
- aside from visiting friends and hurdle race...
remember the items that are in
"THIS WEEK ONLY"
... buy as many as you can!! they are gonna be rare anytime soon after "a week" is up already..
you can trade them in the forums and get lots of jukes for it
BUT
dont trade it too fast!
wait about a month or so and you could get about
15 jukes
for any rare items.